UPDATES FOR UPCOMING 2020-2021
SCHOOL YEAR


ASE WILL BE ONLINE-ONLY THROUGH SEPTEMBER 9, 2020

Dear Albuquerque School of Excellence Students and Families,

Our Administration Team has been hard at work preparing and planning for different school models for the upcoming 2020-2021 school year. We appreciate your feedback and we thank you for your patience as we've navigated through a summer full of questions.

FOR THE 2020-2021 SCHOOL YEAR:

ASE will begin instruction for ALL STUDENTS in an ONLINE-ONLY model starting Monday, August 10th, utilizing our existing learning platforms and virtual classes. Remote online learning will continue through Wednesday, September 9th.

We will begin our HYBRID model of learning on Thursday, September 10th with our Schedule B students (last names M-Z) attending Thursday and Friday classes. Schedule A students (last name A-L) will begin on Monday, September 14th.

PLEASE NOTE - We are using this alphabetical distribution by last name as a guideline to not only evenly distribute students, but also to help keep siblings on the same hybrid schedule when it's time. Due to enrollment numbers by grade level, there could be exceptions to this and schedules could vary by grade level to ensure even distribution.

Schedule C students (those students who will remain fully online) will continue with the online-only model. Assignments, gradings, and schedules for all students will be managed through the learning platforms and the ASE database

The full 2020-2021 Academic Calendar can be found on our website. The calendar has been revised to add the 10 additional days throughout the school year as per the NMPED. You may disregard the previous calendar.
During the HYBRID model, school will be closed for cleaning on Wednesdays and students will continue online studies. When school resumes to full in-person classes on campus, ASE will dismiss early on Wednesdays for the 2020-2021 school year.

We will evaluate the current status of the COVID-19 pandemic in our communities using all NMPED, NMDOH, and CDC guidelines and recommendations and announce the first week of September whether there is a need to extend our online-only learning further, or whether the HYBRID students will start attending in-person classes.

Both of these decisions were made to ensure the safety of our students and staff members during these unpredictable times, as well as to meet the requirements of city and state ordinances, and guidelines set forth by the NMPED.

ONLINE LEARNING PLATFORMS:

Elementary, Grades K-5:

ODYSSEYWARE




Parents




Odysseyware Parent User Guide




Odysseyware Student User Interface




Odysseyware - YouTube




Instructional Design Overview
Introduction to Odysseyware

*More specifically, Grades K-2 will use SPARK within the Odysseyware program.*

Odysseyware will be recording training sessions to be available for parents within a couple weeks.

Secondary, Grades 6-12:
EDGENUITY
Quick Start Guide for Parents
Student Intro Video
&
Student Manual
Edgenuity - YouTube
Student Experience & other videos

Edgenuity will be hosting a parent seminar on Thursday, August 6th at 1:00pm via an online Zoom meeting session.
Please check your email for the Zoom link attend the Parent Q&A or email info@abqse.org
We are working on recording this session for those parents who cannot attend.

Students learning remotely will undoubtedly need more parent involvement and more guidance. We understand that this isn't easy. Please know ASE as a COMMUNITY is in this together and we will work together with you and your students to help them succeed to the greatest extent possible. Your parental support and participation is appreciated. During the first month of school as an online-only model, teachers will hold daily Zoom instructional sessions per each subject following the
Instructional Hours
guidelines from NMPED.Our teachers and support staff will host regular office hours where teachers and students can meet with parents online and schedule one-on-one Zoom meetings as needed as well.
When school transitions to a HYBRID model, online instructional hours will change. We will utilize Wednesdays as office hours dedicated to helping the students who choose to continue in the online-only model. All classes will receive syllabus /class information outlining class guidelines and expectations during the first month of online-only instruction and the changes as we transition into the hybrid model.

Your student may choose to stay in the online only school model or transition to the hybrid model when it begins. All of our ASE families are unique and we encourage you to choose the best fit for your family.

Orientation is Friday, August 7th. We will be conducting Orientation remotely in Zoom sessions by grade levels. The schedule for these grade levels will be announced soon.

EQUIPMENT:
ASE will begin Chromebook distribution during the first week of August. We will announce more detailed plans for equipment distribution next week.

PLEASE CONTINUE CHECK OUR WEBSITE AND MONITOR YOUR INBOX FOR FURTHER COMMUNICATIONS AND INFORMATION!

CHILDCARE:
ASE has partnered with the YMCA! The YMCA program will be offering all day care Monday through Friday 7am-6pm at select YMCA locations and other licensed sites. Similar to all child care providers, there will be limited availability. We encourage all parents to register with the YMCA for childcare needs. The YMCA will also be our after school program provider when students are back on campus.
Register online at www.ymcacnm.org or call (505) 595-1515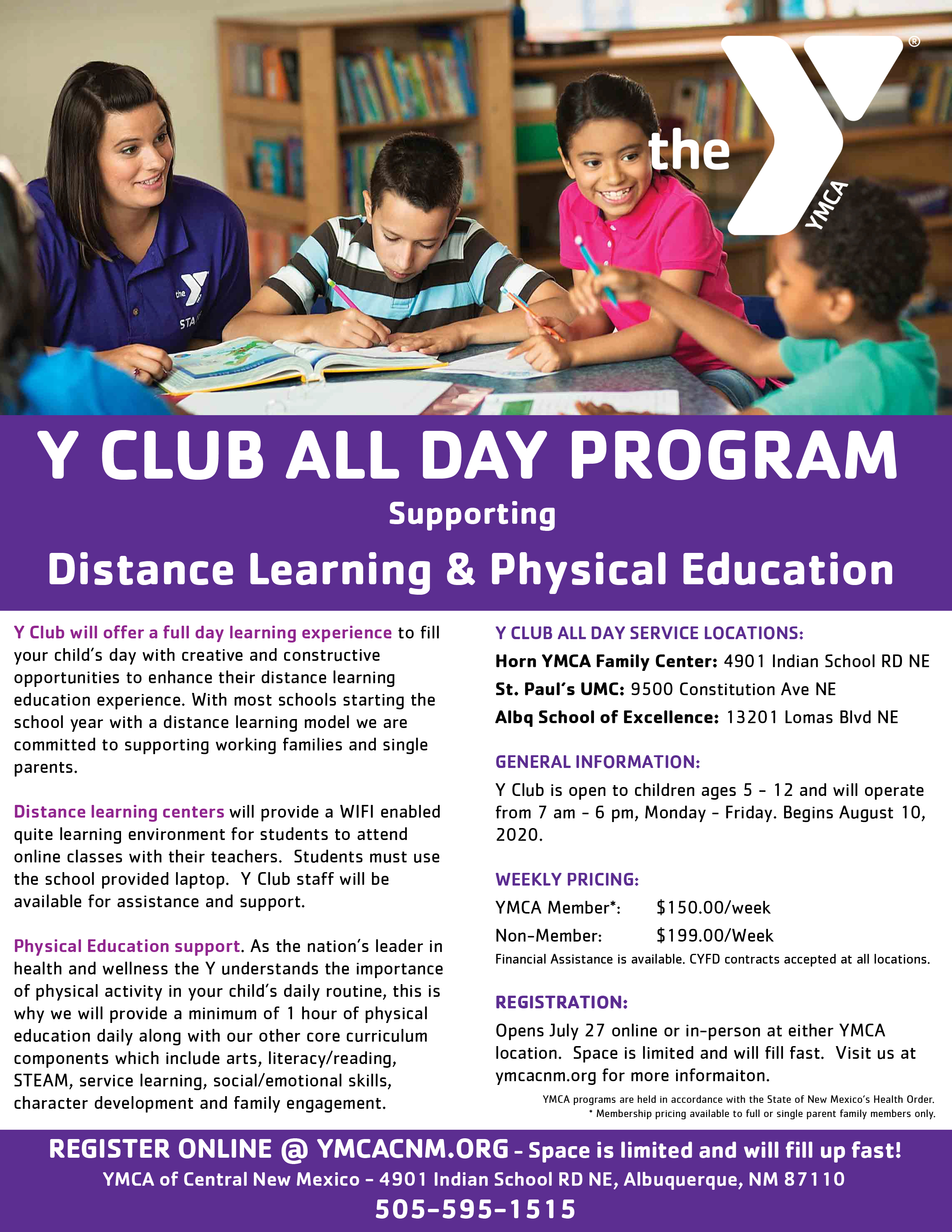 MEAL SERVICE:
ASE will release details of meal services before online-only school begins on August 10th. Please check our website and your email inbox for our follow up information.

SCHOOL SUPPLIES & UNIFORMS:
Our school supply lists are being re-evaluated to fit the needs of the online-only model and the hybrid transition. Supply lists will be released on Wednesday, August 5th.
Uniforms are not needed for remote instruction. However, full uniforms are expected when in-person classes resume. Our front office will be open starting Monday, August 10th to purchase uniform patches.


SAFETY:
We also understand that the prospect of returning to in-person school at some point may cause apprehension for many of our parents and students. We want you to know a considerable amount of thought, planning, and care has been put into creating a learning environment that is as safe and organized as possible whenever campus open again. Here are some of the new COVID-19 safety protocols to expect when school does reopen:

- Daily temperature screening for students and staff.
- If your student feels unwell before school, stay home and follow attendance notification requirements.
- Requiring all students and employees wear a mask / face covering when on campus. Students who cannot bring their own face covering should notify our school's Medical Assistants, Ms. Beyal and or Ms. Rosetta, who will arrange for one to be provided.
- Limiting average class sizes to allow for social distancing. (Exact class size will be dependent on the number of students attending in-person versus online-only.)
- Spacing desks at least six feet apart to maintain proper social distancing and/or installing partitions where students cannot be kept six feet apart.
- Severely limiting classroom rotations/switches to prevent the spread of germs across campus and to limit person-to-person exchanges.
- Staggered drop off and pickup times to limit person-to-person exchanges.
- Requesting all students to wash hands frequently and use hand sanitizers.
- Detailed nightly cleaning by a contracted company.
- Remaining flexible regarding student and team member absences due to COVID-19, as allowed by PED guidelines and applicable employment laws.

The closing of school last spring was difficult. The slow return to normalcy throughout the next school year may be even tougher. But together, we know that we can continue to provide our entire ASE community a safe, collaborative learning environment where excellence is the standard.

Thank you for your help in preparing our school for another exceptional academic year. We thank you for all your continued support, patience, and cooperation. We will continue to share frequent updates with you as more information becomes available via our website, social media, and email.

All students need to have a free/reduced lunch application on file. Please click on the link above to access the application. The state's
INCOME GUIDELINES
will determine if they qualify for free or reduced meals.
It is recommended to print the application to fill out and scan or send to ASE's Lunch Program Coordinator.
If you cannot print or have further questions, please contact:
Doreen Beyal
ASE Medical Assistant & Lunch Program Coordinator
db101@abqse.org
(505) 312-7711
2019-2020 YEARBOOKS ARE SOLD OUT!

If you prepaid for a yearbook and have not picked it up yet, you may pick it up during office hours starting Monday, August 10

THANK YOU!
If your family is in need of resources at this time due to COVID-19, please visit www.newmexico.gov or call the respective numbers provided by our state for further information/guidance:
1-855-600-3453 All health related information, COVID-19 testing & health questions.
1-833-551-0518 All other information including food, supplies, & childcare.

ASE strongly emphasizes to our community take the health precautions outlined by our government leaders seriously. Please understand and implement these policies into a genuine practice of social distancing and safe health practices.
Thank you all for your understanding, patience, support, and cooperation.

Please be safe and stay well!