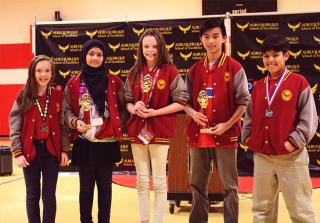 Albuquerque School of Excellence is a New Mexico Public Education Department granted charter school.
Albuquerque School of Excellence is accepting year-round applications 1st thru 12. ASE is a tuition-free college prep school with an emphasis of Math, science and computer sciences.
ASE emphasizes five elements to ensure a successful learning experience.
Gifted & Talented Program
Extra Curricular Activities
These elements are implemented with one philosophy in mind:
Education must be "one-on-one and individualized for the student."
High Standards and Quality Education
We will continually strive towards maintaining the high academic standards that will powerfully propel us into the 21st century. Because of our supportive parents, the Faculty and staff will guide our students beyond all community and state-mandated expectations. The faculty, Staff, and Administrators at ASE are caring, competent, dedicated and willing to assist you. We are working very hard to provide the best possible learning climate for our students.
Our Commitment
The faculty and staff at Albuquerque School of Excellence diligently work to mold responsive, productive, and civic-minded individuals. The 1:15 faculty-student ratio ensures a "hands-on approach" with attention placed on the details. Because there are no more than 26 students per class, each class has an opportunity to become a prolific community. The ASE faculty and staff have the profound privilege of inspiring our students to follow their dreams while making the world a better place for themselves and others.
Discipline with Character
The character education program not only instills in our students' values such as accountability, compassion, integrity, tolerance, and leadership but also reaffirms our strength as a drug-free, gang-free, peer pressure-free, bully-free, truancy-free, fight-free and crime-free campus.
Parents & Community Involvement
By visiting students and their families at home, our teachers help build strong communication and a caring classroom. Teachers talk about student progress, programs, and planning; parents provide priceless feedback and input, and students improve both academically and socially.
Parent's Login
Access online from home or work to check your child's grades, homework, conduct, attendance, and notes from teachers. Monitor your child's progress on daily basis
Communication and Safety
The school communicates with parents via email, telephone, and its comprehensive web site. By communicating quickly, the Administration at ASE sees to the progress, high attendance and safety of students.
Field Trips and Fun Activities
We do have a lot of field trips to help students learn from real-life experiences and broaden their horizons such as trips to local museums and universities. We strongly encourage our teachers to organize fun activities such as camping, bowling, laser tag, picnics, homeroom breakfasts, and barbecue parties.
Science & Technology Projects
Science Fair is a tradition at ASE. Every student is required to do a research project. The research project is an enrichment activity, a family experience, and early start to academic work, an opportunity to develop a portfolio, a reference for the best colleges, and a way to establish connections.
Clubs in After School
We offer clubs in after school programs such as Arts and Crafts, Animation, Jump Rope, Robotics, Board Games, Drama, Folk Dance, Fit Club, Movie, Math Counts, Journalism, Student Council, Computer Games, and Karate. Please note that club offerings will vary each year.